I WAS FORMERLY KNOWN AS "FRELON-K GAMES".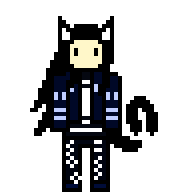 Nyan! Hello, good people!

I love video games and I make video games!
I am a savage nekopunk who makes savage music and occasionally I am a solo developer from the Southern France. I love game jams! Game jams are delicious. Do game jams, you'll progress the hard way.

Released projects:
100 Patterns Of Death
Neko Ex Machina
Currently working on:
Warcat Parade
NekoPunk (standbyed)
If you're interested in my music packs, just scroll down in the bottom section of this page!

Also, I am actually making a DLC for RPG Maker serie, for Steam!
© Hefka